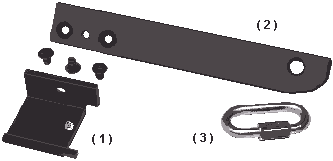 HOW IT WORKS - The Details
The BUZZBAR4-Way pallet pullers are essentially made up of three details.
1. The Cradle.
2. The Handle.
3. And the ( 9mm ) Quick Link.
The Cradle is connected to the end of the Handle by ( 3 ) 5/16-18 Flat Head Soc. Screws. On the other end of the Handle, the ( 9mm ) Quick Link is connected. Puller is completely assembled and ready to go.
TO CONNECT THE PULLER TO THE PALLET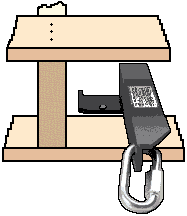 1. Place the cradle end of the puller behind the lower deck board of the stringer pallet.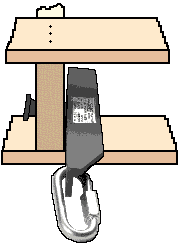 2. Slide the cradle sideways under the stringer board and pull back. That's all there is to it. You are now locked into position.

Above is a side view of the puller in locked position.
Below is a view from the inside of a 2-way entry stringer pallet being pulled by a BUZZBAR 4-Way pallet puller.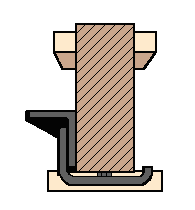 HOW IT WORKS
When in this locked position, the cradle pulls on the lower deck board edge ( perpendicular to the grain of the deck board ) to move the entire pallet along. At the same time the cradle finger and the handle steers the pallet in the direction of the pull.
BUZZBAR pallet pullers are to be used with proof coil chain and not to be used for lifting or anything else other then turning and pulling "wood" stringer pallets that are within tools rated pulling capacity.


Russell L. Simonson - Inventor - Manufacturer/Engineer
BUZZBAR is a Registered Trademark of Buzz Machine Co. (Est.1977) Clarkston, MI. USA.