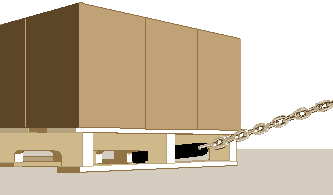 ADVANTAGES
1. FAST POSITIVE ONE HAND HOOK-UP.
You can hook-up or disconnect it in seconds. It locks into position so you can now rotate the pallet, go, stop and go again without having to get off the lift truck and reconnect over and over. Once you've worked with a BUZZBAR there's no turning back.
2. TURNING ABILITY.
It no longer matters what direction the pallet is facing. If you connect to the opposite end of the pallet that is facing you and pull, the pallet will simply turn about it's center weight and then follow the direction of the pull. ( See 1st. video demo )
3a. NO LOADING DOCK ACCESS ?
This tool allows lift trucks to reliably pull loaded stringer pallets to the rear of truck trailers for unloading. Just hook-up, get out of the way, let the pulling source do the work.
3b. NO LOADING DOCK OR LIFT TRUCK ?
With the BUZZBAR, a winch and a manual straddle stacker you can still unload trailers. The size, shape and the ability to stop and go pull allows you this huge cost savings ability.
3c. NO LOADING DOCK, LIFT TRUCK OR WINCH ?
With the BUZZBAR, a manual straddle stacker and a Tree you can still unload fast with even less equipment and effort!
4. INCREASED STRINGER BOARD LIFE.
Unlike the deck boards of a pallet, when a stringer board goes so goes the pallet. The repair usually exceeds the replacement cost. You can minimize this problem by using equipment that will not split, cause cracks, crush, bite with teeth, or weaken the structural integrity of the stringer boards.
Unlike the other pallet pullers the BUZZBAR pulls perpendicular to the grain of the lower deck board width where maximum board thickness and strength are found. Utilizing this area allows reliable stop and go pulling, turning and overall greater maneuverability. Split, cracked or crushed stringer boards are not created and the life of the pallet is increased significantly.
5. LIGHTWEIGHT.
BUZZBAR 4-WAY ( 2lbs.12oz. )
6. SMALL SIZE.
1.938 X 3.50 X 10.75 lg. ( .250 thick steel )
It can fit in your tool box, your glove box, and even your back pocket.
7. ENGINEERED TO HANDLE.
Up to 1.75" thick stringer boards and can fit inside a 1.75" tall stringer space.


8. ( 9MM ) QUICK LINK
Allows for direct chain, grab hook or slip hook connection to the steel zinc link. Up to 3/8" Grab hook or 3/8" Slip hook can fit insides this link if the off set of the link nut is connected nearest to the handle hole. If you are using larger hooks you can add a larger Quick Link to the first.
9. HIGH QUALITY STANDARDS
We manufacture our products from 1/4" thick steel utilizing CNC Machine Center tolerances for exact, consistent part duplication. Only the highest quality materials are used. Combined, together with a simple strong patented design, we have achieved excellent performance and test results from these small lightweight tools.
Buzz Machine Co. has been serving the Detroit and Flint Michigan area since 1977. Specializing in designing and building special machine tools, fixtures and part transfer equipment for the special machine tool industry.

Note! This tool is not to be used for lifting or anything else other then turning and pulling "wood" stringer pallets that are within tools rated pulling capacity.

Russell L. Simonson - Inventor - Manufacturer/Engineer
BUZZBAR is a Registered Trademark of Buzz Machine Co. (Est.1977) Clarkston, MI. USA.