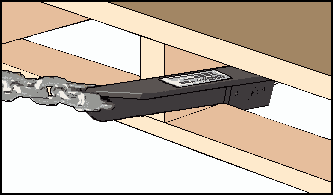 TESTING THE 4-WAY
The BUZZBAR 4-Way pallet puller & turner was designed specifically to work with 4-way entry ( notched ) stringer pallets and 2-way entry stringer pallets. It is conservatively rated at 3200 lbs. pulling loads over smooth truck bed floors.
TEST RESULTS
In testing with a lift truck, a proof coil chain, a 10 mm Quick Link chain connector and a full spec. 48 inch x 40 inch GMA pallet, the BUZZBAR 4-Way turned and pulled 6136 lbs. of steel coil across a smooth cement floor. That's 191% of the pullers rated load capacity. See Video of test and picture below.
( NOTE! We do not recommend pulling over loaded pallets. This demonstration was a research and development test only. Over loading pallets beyond there safe load capacity is not recommended. This demonstration was to test the strength of the puller it self, not the links, chain or the pallet. The typical safe maximum load capacity for a full spec. dense hardwood GMA pallet with 5/8 inch deck board thickness is 2000 lbs. )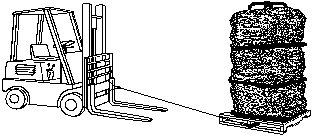 Click (
Here
) to see VIDEO DEMO.
When test pulling with a 6136 lb. weight load, the only signs of stress to the new pallet was an .030" impression created where the puller made contact to the lower deck board edge and under the stringer board where the cradle hex. head, left its impression from trying to rise up and pass between the stringer board and the lower deck board. This demonstration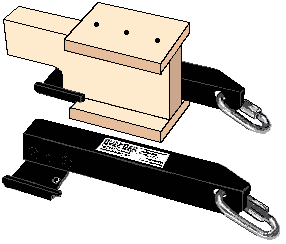 At the 3200 lb. pulling the BUZZBAR 4-Way pallet puller displayed no significant signs of wear or stress.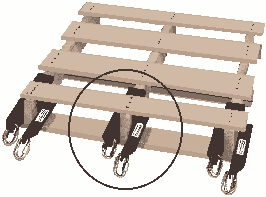 Decisions, Decisions
In the photo above we show the 6 positions a BUZZBAR 2-Way pallet puller can be connected to on each end of a 2-way pallet. That's a total of 12 hook-up positions. All you need is one. You can either slide the cradle under the stringer board to connect or curl the cradle over the top of the stringer board as shown. We recommend the lower center position to be your first and strongest choice.

For handling extra large stringer pallets with extremely heavy weight loads you can use 2 pullers at the same time linked together with a short chain as shown above.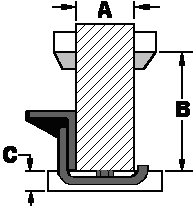 The BUZZBAR 4-Way :
A. Handles up to 1.75" thick stringer boards.
( will fit PECO 4-way Pallets )
B. Works inside a 1.75" minimum height between the upper and lower deck.
C. Will work with a minimum .375" deck board thickness on 4-way entry pallets and .500" minimun deck board thickness on 2-way entry pallets.
BUZZBAR pallet pullers are to be used with proof coil chain and not to be used for lifting. For maximum pulling with minimum chain weight we recommend 5/16" proof coil chain.

Russell L. Simonson - Inventor - Manufacturer/Engineer
BUZZBAR is a Registered Trademark of Buzz Machine Co. (Est.1977) Clarkston, MI. USA.